Student Democracy
In PF there are many ways to have an influence of development of PF and DTU. Below is a description of the following positions of responsibility that you can be selected for:
Student Councils
Elections and Constitution Committee (VOKU)
The Joint Council (FR)
The Finance Council (FRR)
Critical Audit
PF Board
As it may be difficult to navigate in all aberrations, gestures and councils a brochure was made to make it easier to you.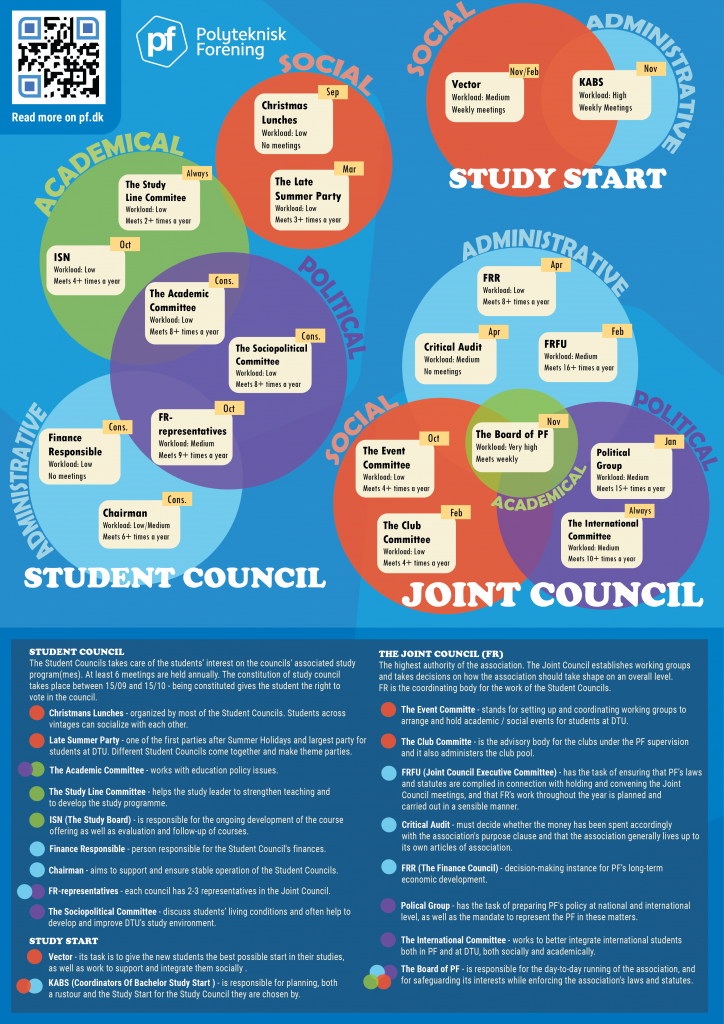 ---
Student Council
A good place to start is in your student council. Here you meet people from your own study line across years, and you can hear about everything that goes on in PF and at DTU in general. All students can become members of a student council.

List of student councils for corresponding study lines can be seen here.
---
Elections and Constitution Committee (VOKU)
Number: 4-5 people
Time of year: August-December
The Election Committee coordinates the university election with DTU and ensures that students are nominated for the Institute's Study Board (ISN) and Working Environment Committee (AMU). The committee consists of at least 1 contact for the current board, as well as 3-4 other members.
The work consists of:
Inform the study councils about constitution; applicable formalities and deadlines.
Collect lists of candidates for ISN
Get the list approved in FR.
Make sure that the students apply for ISN through the online election system.
Collect lists of working environment committee representatives and forward the list to the responsible person on the board.
Make sure that chairpersons and finance officers sign the constitution lists.
The election committee holds 1-2 meetings in each of the months August, September, October and November. In addition, there will be a lot of contact with student councils, candidates etc., which overall will amount to 2-4 hours during the busy weeks.
---
The Joint Council
The Joint Council (Fællesrådet, abbreviated "FR") is the supreme body of PF. FR makes the executive decisions for PF, such as approving committees, student representatives for DTU's boards and councils, and PF's budget. FR consists of 2-3 students from each Student Council, and PF's Board also attends all meetings.
---
The Finance Council
Do you think organization, budget and accounts in an organization with a double-digit million turnover is insanely exciting? Are mission and visions something that makes you really want to call?
In that case, you must become a member of PF's Finance Council!
As a member of the Finance Council, your tasks are to act as a sparring partner and background group for PF's Finance Council chairperson regarding budget, accounts and HR. You will help make minor revisions of budgets and be involved in the safe design and updating of PF mission and visions, as well as budget management tools.
In order to be successful in this task, it is important that you have a good basic understanding of finance, organization and volunteers in associations or a desire to learn more about this. It is an advantage to have good knowledge of PF's organization. It would also be a plus if you have knowledge of these things from other organizations.
For more information, contact the chairperson of the Finance Council or apply by sending a motivated application to frfu@pf.dk.
---
Critical Audit
Do you ever wonder if PF uses its millions of revenue to benefit the students or if it's all just for pampering? In that case, you must become a critical auditor in PF Critical Audit!
As a critical auditor, your task is to check whether PF's resources are used in accordance with the decisions of the Joint Council, as well as to carry out a random check on whether there is documentation that the money has been used as presented in the accounts.
In order to be successful in this task, it is important that you have an eye for detail and an understanding of accounts and association culture in voluntary associations. Knowledge of this will therefore be a plus.
For more information, contact the chairperson of the Finance Council or apply by sending a motivated application to frfu@pf.dk.
---
PF Board
Do you want to do something good for your fellow students? Would you like a unique opportunity to expand your skills from your studies with management and organizational skills? Would you like to learn something about event planning and/or political work? Do you like a lot of emails?
Then a year on the board of the Polyteknisk Forening is definitely something for you!
As a member of the Board of PF, you are part of the day-to-day management of an association with three full-time employees and a turnover of a double-digit million. This means that two days are rarely the same, as there are always new students or collaborators with questions. You will have a specialized role within finance, association chairmanship, political work, capacity management in S-Huset or something fifth, but it is your task, together with the rest of the board, to ensure that all parts of the Polyteknisk Forening run.
The most important thing to be successful in this post is that you have the will and desire to put in a lot of work in an association of the students for the students, for periods up to full time. The rest we can teach you. It is of course a plus if you know about PF or other voluntary organisations. Experience with finances, calendaring and email can also be an advantage.
For more information contact the current board or resign by writing an email to beu@pf.dk.
Last updated: September 16, 2022